Lions will get the ball back, as the defense forces a 3 and out.
Lions will take over at their 30...no, wait. FLAG.
Logan flipped the ball at a Saint, and is called for unsportsmanlike conduct. CHRIST AL-FUCKING-MIGHTY. Instead of the 33, the Lions start at the 18.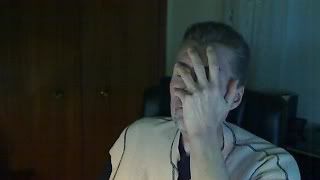 The only response I have to a ridiculous personal foul...the facepalm.
Stafford says, "Fuck that noise, I'm getting it back." He hits Bulreson for a 47 yard gain at the Saints' 35!
3rd and 12 from the 37...pass is tipped at the line. Lions will try a long FG from 55 out.
And...it's long enough...but wide left. Saints end up with great field position. Not a good game for Hanson tonight.
You have to wonder if the Lions would have been better off just trying to pin the Saints deep. They were in no-man's land, pretty much screwed, as any decision could blow up in their face. Missing the long FG  does just that...
One decent completion, and Brees will have the Saints in FG range. 
Saints face 3rd and 7 from their 45...big play.
Brees burns the blitz, finds Graham for 16. There's the completion. 
Brees to Graham, and the Saints are inside the 10. Spivey can't cover him.
Brees to Sproles, TD Saints. 
31-17 Saints. They have breathing room again.
Stafford is good...but he's not a Brees' level...yet.
Both QB's have amazing numbers.
Stafford: 23-29, 337 yds, 1 TD
Brees: 25-34, 328 yds, 3 TDs
The difference? Brees' teammates don't do dumb ass things like throw punches in front of referees inside the 5 yard line. 
Logan with the kick return to the 22...and doesn't flip the ball at a Saint. Go figure.
Stafford throwing underneath, 2 catches to Megatron for 20, 6 more to Scheffler. Lions are moving the ball, only 8 minutes left.
Keiland Williams off tackle...he's to the Sants' 40!
Stafford wants Burleson...FLAG. Another offensive PI.  There was a small push in the back...and the refs are going to call it every time.
2nd and 13...Screen was set up great...and Morris drops the pass.
3rd and 13...Stafford's throw is incomplete.
Now the Lions punt. That was a place where you go for it. Hell, you try a long FG earlier when a punt may have been the better option. NOW you decide to punt? With 6:40 left, down 2 scores and you have to stop the Saints twice?  And you punt?
That's the game.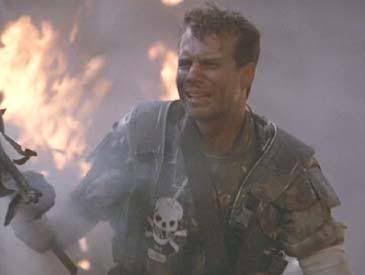 You don't need me to tell you what Bill Paxton is saying...
Brees throws deep on 3rd and long...and the Lions nearly pick a thrown up for grabs ball.
Lions will take over at their 36 with 4:53 left in the game. Well, so far Schwartz's call for a punt worked. They got the ball back. But you need to get 7, then stop the Saints, and get 7 more. Talk about a long shot parlay.
Stafford to Burleson...is coming back. PI on Burleson. AGAIN. I've never, ever seen a receiver get busted for 3 PI's in one game...Hell, not even in one season. Yet Burleson gets a hat trick in 3 quarters?
Pettigrew gets tangled up with a Saint, kicks at him...then pushes the official. FLAG! 15 YARDS!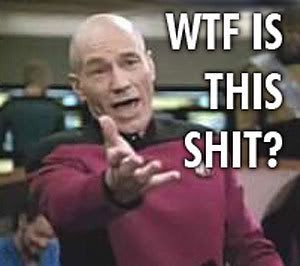 Capt. Picard always knows just what to say.
FUCKING DUMB. Bench the ass. You can't do that. You just can't. 
Lions get bailed out. Saints sack Stafford at the 5...but was hit when he was down...FLAG! Tack on 15 yards and a 1st down. Lions are still breathing...
3rd and 3...Stafford sidearms the pass toi Megatron...who can't hold on as a Saint gets his hat on the ball.
4th and 3 from the 39, Stafford has to roll from pressure, throws in depseration....PICK. Stafford never had a chance, he was running for his life right from the snap. From all appearances, it was a broken play. A couple of Saints weren't blocked.
For anyone who thinks the Lions are getting short shrift from the refs, the Lions themselves are to blame. With the stunts they pull, do you think they will ever get the benefit of the doubt?
The Lions, once again, have imploded on national TV. 
Clock running, under 2 minutes left, Lions are out of time outs. It's all over but the bitching about penalties on Twitter.
Stafford is getting garbarge time yards, which have him over 400 on the night. 
And the game finally ends. Saints win, 31-17, in a game whiuch was closer than the score indicates...thanks to the Lions' penchant for the dumb penalty.
Lions are now 7-5 after a 5-0 start. Yet the Lions still hold on to the final wild card spot thanks to everyone else losing too.
What a frustrating loss. Then again, considetring how stupid the Lions play at times, the fustrastion quickly turns into anger.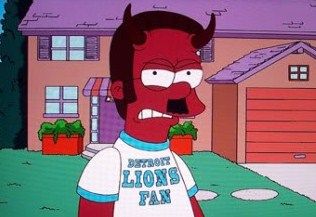 Yep, that's me...without the Hitler 'stache...